Rates
Students
Employees
Guests
Day pass
6,00€
7,00€
10,00€
10 visit punchcard
54,00€
63,00€
90,00€
3 month membership incl. sauna
35,00€*
45,00€*
60,00€*
6 month membership incl. sauna
32,00€*
42,00€*
55,00€*
12 month membership incl. sauna
25,00€*
35,00€*
49,00€*

Happy Hour Day pass

(We+Fr 10am - 3pm, excl. public holidays)

4,00€
5,00€
8,00€

Happy Hour 10 visit punchcard

(We+Fr 10am - 3pm, excl. public holidays)

36,00€
45,00€
72,00€
Kid's Day Pass
5,00€
5,00€
5,00€
Kid's 10 visit punchcard
45,00€
45,00€
45,00€

Family Pass

(2 Adults + up to 3 Kids)

15,00€
20,00€
25,00€
Gear rental fee
3,00€**
3,00€**
3,00€**
* price per month
** price for each individual pair of shoes, harness, rope or belay device
Sauna
Monthly memberships include entry to the sauna facilities.
If you don't have a membership, a sauna day pass is optionally available for a small price.
Relaxation and recreation are available daily from 1 pm.
The above rates are only applicable to students and employees of Leibniz University and partner Universities of the University Sports Department.
Vouchers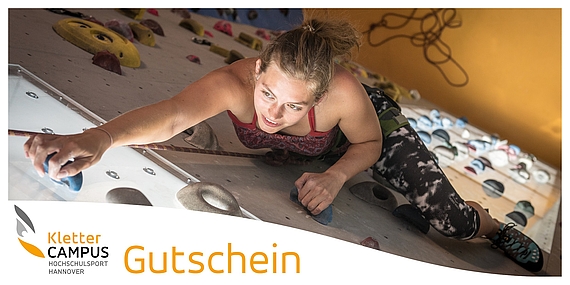 Vouchers are a perfect gift idea for your loved ones. Suprise them with a visit to KletterCAMPUS!
Vouchers are available for purchase at the KletterCAMPUS reception.