Our sauna invites you to relax after your workout, warm up and recover on cold or rainy days, or just hang out and enjoy your time
The saunas are getting new sauna heaters. Due to the electrical and reconstruction work, the entire sauna area will be temporarily closed.
Discover what awaits you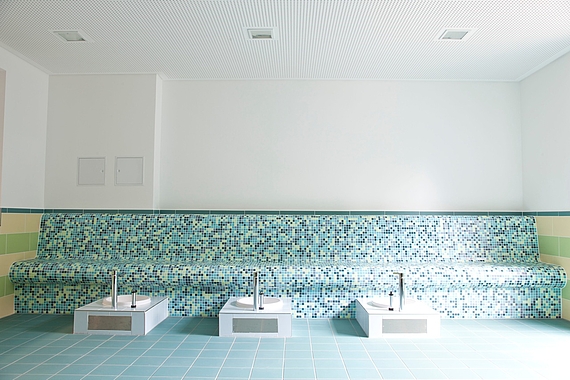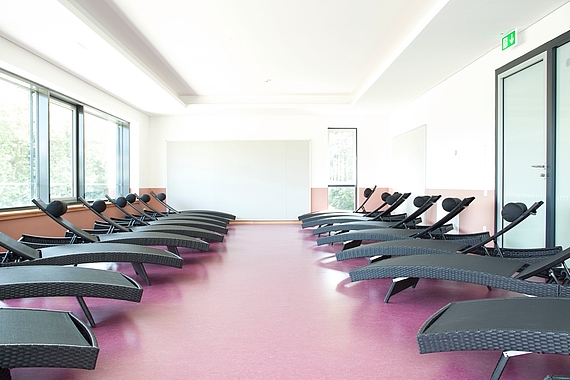 a finnish sauna (90°C)
a sanarium (60° and 40% humidity) [currently closed]
dipping pool
foot basin with heated bench
spacious relaxation room with roof terrace
separate changing rooms and showers
Opening Hours
Special Opening Hours
every Tuesday: women only - every Thursday: men only

sauna will remain closed on Good Friday, Christmas Eve, Christmas Day, New Year's Eve, New Year's Day
deviating opening hours will be announced via bulletin
Prices
| | Students | Employees | Guests |
| --- | --- | --- | --- |
| Day pass | 5 € | 7 € | 10 € |
| 10-visit pass | 45 € | 60 € | 90 € |
EC-card payment possible!
Payment of the fee is made via EC-card or via a one-time direct debit authorization - this requires a BIC / IBAN!
Your way to the Sauna
Here's how you may enjoy our sauna:
Regular Sports program
Tickets for the sauna may be purchased after a previous booking of any Hochschulsport offer, usually the semester ticket (subject to a fee). For guests, this is usually the booking of the paid semester ticket and another sports course.
Day pass or 10 visit punchcard
With a valid semester card, tickets (day ticket or ten visit punchcard) can be purchased in person at the counter in CAMPUSFit (2nd floor). Guests additionally require the booking of another sports course.
CAMPUSFitCard
You're a member of CAMPUSFit? Access to the sauna is already included for you! EARLYBirds may access the sauna on weekends, BASIC and PREMIUM may do so daily from 1 pm.
Climbing membership
You have booked a climbing membership? Then the use of the sauna is already included for you with the 3, 6 and 12-month tickets! Relaxation and recreation are available daily from 1 pm.
Sauna Policies and Towel Rental
Please bring a beach towel, soap & shampoo, bath slippers and plenty of fluids (plastic bottles only). Bathrobes optional.
Mobile phones and cameras are prohibited in the entire spa area.
No pouring water on the heater by yourself. Staff will do the pouring (Aufguss) according to a set schedule.
You may not bring any sauna additives (honey, salts, etc)
Absolutely no outside food permitted.
Observe the rules & regulations (German).
Towel rentals are available at the CAMPUSFit counter (subject to a fee).
Infusions and Closing Times
Women only sauna on Tuesdays, Men only sauna on Thursdays
Hourly infusions at "quarter past" (time deviations are always possible!!)
Infusions are carried out by the CAMPUSFit team
On women's and men's sauna days, an attempt is made to assign the staff to the same sex - however, this cannot always be guaranteed
Please finish your sauna session 30 minutes before closing time and exit the sauna room
The relaxation room, roof terrace and changing rooms have to be vacated by 9:55pm (mon-fri) and 7:55pm on weekends